IN THE SPOTLIGHT: Diego Pantoja-Navajas, LogFire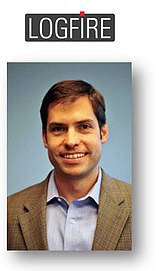 Today, the Edison family welcomes Diego Pantoja-Navajas, CEO of LogFire, the leading multi-tenant, cloud-based warehousing and in-store inventory management and fulfillment platform provider based in Atlanta, GA.
Having great interest in cloud technology in global supply chain markets, I drove Edison's recent investment in LogFire. The LogFire team has a great combination of deep consumer goods and retail domain expertise and an already impressive track record of not only developing relationships with logistics leaders around the globe, but also helping them become more nimble so they can react to market changes quickly.
This past June, Edison announced an $6.25M Series A investment in LogFire, that has and will continue to accelerate company growth, drive innovation, and strengthen efforts to further penetrate the cloud-based supply chain market globally across diverse industries.
Lots of exciting things are happening at LogFire since the investment and I had the pleasure to speak with Diego, and get his perspective on the industry, leadership, and the importance of mentorship.
Joe: Tell us about your roots. How have you gotten to where you are?
Diego: I've been fortunate to grow in a family with great values and I understand the importance of hard work. I have gotten to where I am today because I like to face challenges creatively, I also think that my faith in God has allowed me to stay grounded and focussed.
My success to date has been based on leveraging my many years of experience in the warehouse management industry and my passion for advanced technologies. My focus has always been to provide value to our customers and to create the next generation of products for the supply chain execution industry. Creating this product was an incredible goal, and having a business model that allowed us to be self-funded and profitable, was very important to drive the vision of the company.
Joe: How did you end up founding LogFire?
Diego: I founded LogFire to create an environment where innovation and creativity roamed. It was important to align those fundamental passions while leveraging my many years of implementation expertise installing Traditional Warehouse Management Solutions. I saw an opportunity to deliver a more advanced WMS solution that is cloud-based and more configurable. For several years, my team and I worked endless nights and weekends while we were consulting to build our WMS product.
From the beginning, the goal was to change and improve the market by providing a world-class, cloud-based fulfillment platform for companies of any size and scope. Creating better and more innovative technologies to solve complex problems easily was fundamental in every stage of our thought process. Having a flexible product meant that we could do so much more for companies as they scaled up. Company sizes did not matter, what mattered was enabling every company, of any size to reach their best supply chain operations models.
Joe: How would you describe your current product portfolio and your market opportunity?
Diego: I wanted to break from traditional vendors in our industry by introducing a SaaS pricing and delivery model. LogFire has developed its solutions with open source technologies that are mature, robust and scalable. The solutions are built to be implemented in a multitenant cloud-based environment. LogFire's model reduces all client up-front costs, reduces implementation timelines, and provides continuous system upgrades.
The market opportunity is tremendous. LogFire targets retailers, suppliers to retail, wholesale companies, consumer goods firms, and third party logistics providers of all sizes. LogFire works with companies that are looking for an easily configurable, flexible product that grows and changes as their business grows and evolves. Because LogFire has SaaS based solutions and a robust cloud infrastructure, we can install our suite of products throughout the world with relative ease. This model allows expanding companies to reach new markets at significantly lower cost.
Joe: Building the right team is crucial. Can you give us some background on the key members of your team and the expertise they bring to the company?
Diego: Our team is comprised of supply chain industry experts and technologists, each with extensive leadership experience in development, consulting, implementation and management of supply chain solutions. We are a big family! We all collaborate, support and care about each other. There is a particular common denominator in our team: creative brains. We like to seek and find what seems impossible, so we work hard and smart until we find what we are looking for, and somehow the process is always fun.
Joe: Tell us a little known fact about yourself.
Diego: I was a serious soccer player, but my travel schedule did not allow me to spend as much time on the field. On the other hand, I have a passion for running, and the great thing is that I can run wherever I may be.
Joe: So, what keeps you up at night?
Diego: I sleep very well!
Joe: What is the biggest thing that has shaped your success?
Diego: My passion for the product we created, the hard work we put behind it every day, and the strong belief that we have the ability to execute the goals we set.
Joe: Tell us about one of the most important strategic decisions you've made to contribute to the success of Logfire?
Diego: That would probably be the decision to transform the company business model from a consulting practice into a product company.
We have received multiple positive signals from the market, clients and industry analysts on our approach. After just three years of successfully delivering an innovative multi-tenant cloud-based supply chain execution platform to many customers, we were positioned in the "visionaries quadrant" of the Gartner Magic Quadrant for Warehouse Management Systems report. At that point, I decided to fully transform the company business model and focus only on our LogFire Solutions business.
Joe: If you could choose one super hero power, what would it be?
Diego: If I could chose a super hero power, it would be to be at two places at the same time - at the office and on a soccer field.
Joe: Let's touch on mentorship. Who is/has been your biggest mentor?
Diego: Mentorship has always played a great role in my success. My father has been my greatest mentor; I am very fortunate to have a role model like him in my life. I have been blessed to have great people around me that helped me shape into who I am.
My dad was a very successful economist. He held many important positions and he has always shared that success with all of us. Growing up, I spent some weekends with my dad at his office. He would teach me the value of work, dedication and to never take anything for granted. He has been my role model and imparted us great values.
I am thankful for those who believed and provided me guidance and support throughout the different stages of my life. At this moment in my career I am enjoying working with you, Joe, and am learning a lot.
Joe: Thank you for the kind words, Diego. And, thank you for sharing your story with us.