We are kicking off a CEO Spotlight series to showcase the leaders of Edison's latest investments. This series will take the form of an interview between an Edison investment professional and company CEO, and explore strategies, opportunities and challenges faced while growing and scaling his/her business.
Today, the Edison family welcomes Denis Connaghan, CEO of Clinverse, an emerging leader in clinical trial finance, automating millions of dollars in financial transactions for clinical trials across the globe. On August 19th, we announced a $5M investment in Clinverse, which is helping the company accelerate its product roadmap, bolster infrastructure, and expand sales and marketing
IN THE SPOTLIGHT: Denis Connaghan - CEO, Clinverse

As a big believer in disruptive healthcare technology innovation for underserved markets, I led Edison's recent investment in Clinverse. The company's automated financial management solutions accelerate clinical trials and reduce workload throughout the clinical trial financial lifecycle. They are the first to offer a comprehensive platform that automates payments, budgeting, forecasting, contract management, accruals, accounting and reporting. With Clinverse, BioPharma companies are streamlining clinical trial finance by eliminating the need for spreadsheets and manual processes across multiple systems.
I had the opportunity to sit down with Denis Connaghan, and get his perspective on the healthcare market opportunity, leadership, and what's next for Clinverse.
Lenard: How did you end up leading Clinverse?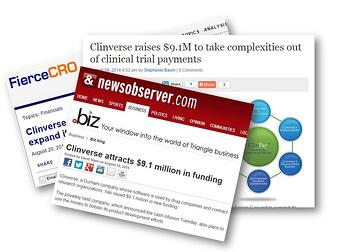 Denis: I was attracted by the company because of its leading technology and service solution for a very inefficient, mostly manual, industry process. From previous work, I was aware of the massive problem the industry had in managing and paying over $20B per year to sites. I wanted to be part of the Clinverse team and solution that was uniquely positioned in the market.
Lenard: How would you describe your current product portfolio and your market opportunity?
Denis: Clinverse architected and has implemented the industry's first automated financial management technology solutions for clinical trials. Our solutions provide a standardized mechanism for clinical trial financial management, including clinical site payments.
Clinverse primarily works with mid-size to large pharmaceutical and biotechnology companies that focus on the development of new drugs and therapies through the conduct of both domestic and global clinical trials. Clinverse has a diverse client list, including top 10 BioPharma companies and a top five CRO. Through ClinPay, Clinverse has managed more than 420,000 transactions to more than 2,200 sites in 48 different countries, totaling over $125 million.
Clinverse supports the largest and one of the most problematic segments of clinical trial development, investigator payments, which represent approximately $20B of the estimated $65B in annual clinical trial spend. Other niche service providers exist but they typically deliver service offerings that are largely manual, non-scalable and/or lacking in transparency, flexibility, and accuracy.
Lenard: Building the right team is crucial. Can you give us some background on the key members of your team and the expertise they bring to the company?
Denis: We have assembled a seasoned management team made up of 9 individuals, providing over 170 years of collective experience in the clinical, financial, and technology industries. Three of us worked together previously in a successful endeavor selling an eClinical company.
Lenard: Healthcare technology companies are placing increased importance on marketing. How are you marketing your solutions?
Denis: As a relatively new market niche, educating the industry is a corner stone of our marketing strategy. With our team's industry experience, we are fortunate to be viewed as domain experts, allowing for a strong consultative component within our marketing efforts. This has been especially effective within large BioPharma and CROs, and we will continue to evangelize through this consultative approach.
As an extension to our consultative approach, our marketing efforts include creating content, developing multi-channel programs to promote content, and analyzing data to see how our programs are performing.
Lenard: What is the most exciting thing happening in healthcare IT today from your perspective?
Denis: The need to continue to push on change and the opportunity that opens up for the innovator and forward-thinking technologists is exciting to me. This continues to be an industry that is a reluctant adopter of technology but for whom technology is the essential vehicle for change.
Lenard: I couldn't agree with you more. So, what's the next great milestone for Clinverse?
Denis: Through repeated successes, the Clinverse team continues to build on the confidence our leading clients have in us. It's a great milestone, and cause for celebration, each time we take a client live on our system for their first project.
As a technology company, innovation must always be at the forefront. In the coming months, we will be releasing a new product that we see as a game-changing solution for budget consolidation and ongoing clinical trial forecasting. This is the next great milestone in the execution of our product roadmap.
Lenard: Last question for you: what's the book you think every executive should read?
Denis: I don't think there is any one book that fits every executive's interests or needs, or provides the necessary insight to one's gaps. Some interesting reads for executives could include Jack Welch's writings, pieces discussing the collapse of Enron, a book by Mike Krzyzewski or Joe Gibbs, as well as one of the plethora of military strategy books.