IN THE SPOTLIGHT:

Wendell Lansford, Offerpop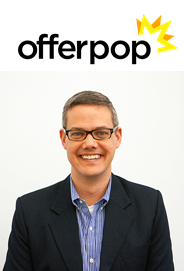 New York City-based Offerpop is an emerging software leader in social marketing, data insights and analytics for brands and marketers; and today Edison welcomes Co-founder and CEO, Wendell Lansford, to the CEO Spotlight.
Offerpop was Edison's twenty-first investment in New York as part of our growing Interactive Marketing & Digital Media practice. We invested $15M in growth financing back in June 2014. Offerpop has basically created a whole new marketing technology category empowering marketers to fully utilize the power of social data; and we dig it.
Since June, Offerpop has been busy staffing up its New York headquarters and working on improved analytics tools. I had the opportunity to get personal with Wendell to get his perspective on marketing, the marketing technology space, and the importance of being your own toughest critic.
Ryan: Tell us a little about your background and how you ended up leading Offerpop?
Wendell: My career has tracked the commercialization of the Internet. I began in the 1990s as a software developer and then, subsequently, started and sold two software companies. Offerpop is my third company. We started Offerpop at a time when social media had reached critical mass and mobile was taking off – and our belief was that the convergence of those two trends was going to fundamentally change consumer behavior and transform how companies market and sell online.
Ryan: How would you describe your current product portfolio and your market opportunity?
Wendell: Offerpop is an engagement marketing platform. Brands, retailers and agencies use Offerpop to connect with, engage and convert today's mobile and social consumers. B2B marketers are familiar with email-based marketing automation platforms like Eloqua, which was acquired by Oracle, and Marketo, which IPO'd last year. Offerpop is similar, except our platform is built for B2C -- and while email plays a role in what we do, mobile and social take center stage. We have focused on building a cloud-based platform that is easy to use for a wide range of businesses – from mid-market to enterprise.
Ryan: Interactive marketing is a hot space. How are you marketing your solutions?
Wendell: The industry has certainly evolved rapidly over the past few years! It's been exciting to work with global brands and agencies as they navigate new strategies and technologies to connect with mobile and mobile consumers. Leading organizations in verticals, such as retail, CPG and media, leverage our engagement platform to incorporate personalized, social experiences across digital marketing channels, strengthen consumer relationships and capture valuable social data.
Our customers rely on our expertise in social and mobile, and look to us to guide them through the ever-evolving digital marketing landscape and provide insight on building integrated marketing strategies to drive long-term business results. Much of our own marketing has focused on developing content to educate on emerging trends and opportunities and showcase successful examples of engagement with the Offerpop platform, as well as demonstrating how to unlock the power of social data across acquisition, email and mobile channels.
Ryan: What is the most exciting thing happening in the Interactive Marketing space today from your perspective?
Wendell: Marketing is no longer just about brands pushing out messages and talking *at* consumers. Today's consumers are engaging with, and sharing content about, their favorite brands. Consumers are active participants in building brand awareness, driving product discovery, and influencing purchase decisions. Take Yelp as an example. You don't choose a restaurant based on what a restaurant says about itself – instead, you choose based on what total strangers say. The most successful brands in the future will be those that understand and engage their customers best. This is one reason why Gartner predicts CMOs will spend more on IT than CIOs by 2017.
Ryan: What's the most difficult decision you've made in the last two years and how did you come to that decision?
Wendell: Identifying and optimizing around the right customer profile is an ongoing effort, and decisions related to customer selection have significant implications across the business – from product to customer retention. These decisions require deep knowledge of your customers and involve big tradeoffs, but getting it right helps you be the best in the world at what you do.
Ryan: Building the right team is crucial. What are some interesting insights on the key members of your team and the expertise they bring to the company?
Wendell: We have a great team and everyone brings valuable industry experience and complementary skills to the table. As a group, we have deep experience in SaaS, email marketing software, CRM software, ad tech, mobile platforms and digital media. We learn a lot from one another -- and at the same time, a chief responsibility of the senior team is to mentor and develop new leaders in the company.
Ryan: What's the next milestone for Offerpop?
Wendell: We are hard at work on a new, unique consumer data and insights product. The product has been informed by our experience working closely with digital marketers over the past few years, and we're really excited to bring it to market in 2015.
Ryan: At Edison's recent Annual Meeting, we heard that you spent some time on a Nuclear Submarine. Tell us about that experience. Has it helped you as a CEO?
Wendell: I was Navy ROTC as a freshman and I spent the summer after my freshman year on a submarine tour between San Diego and Honolulu. It was a great experience, but spending an extended period of time in a small vessel many feet under water put in sharp relief for me the importance of doing what I am passionate about. I now do things that I am passionate about. I'm passionate about what we're building at Offerpop, and it helps a ton to "all in" on what I'm doing.
Ryan: What else is on your bucket list?
Wendell: I want to show my kids as much of the world as possible!
Ryan: What's the book you think every executive should read?
Wendell: It might sound a bit cliché at this point, but it's The Innovator's Dilemma. The book provides a helpful framework -- for both entrepreneurs and executives of established companies – to understand the tech-driven disruptions that we see in so many industries today.
Ryan: What is the biggest tip you would give to an entrepreneur looking to raise capital?
Wendell: Start by being your own toughest critic and convince yourself that your company is a great investment before trying to convince others. That will give you the confidence you need to be successful. And a second tip: carefully evaluate potential investors, and be sure they are people you can work well with. When all is said and done, that's the most important thing.