Edison turns 30 this year! Each Friday through year end, we'll be giving you a little blast from the past. True to the Edison Ethos, this photo blog campaign emphasizes an important fact that here at Edison we are candid -- refreshingly and uncomfortably.
It's the first week of December, the Rockefeller Center Christmas tree is lit and the holiday season has officially begun! The Rockefeller legacy is based on 3 important values: family, business, and philanthropy. Our next Edisonian demonstrates those same qualities as General Partner, husband and father to two beautiful girls, and rocks the nickname "Ziggy," meaning "protector"...oh, and he's really into Christmas!

Edisonian of the Week: Ryan Ziegler - Then & Now
Q: What brought you to work at Edison Partners?
A: I grew up in Philly and moved to the DC metro area in high school where I started up a (very small) business. It is so rewarding to start something from scratch, and at that point I knew I could never work for anyone else early on. After college, I went on to SEI and got exposure to venture capital and private equity while working in the fintech industry. I worked hard, networked into the local community and got an intro to Edison the spring of 2003. After 14 interviews and a sales pitch, I luckily convinced them I could provide a skill set they were after in starting up the sourcing team. I held the record of the youngest person ever hired here until Jordy Albert shattered it by a year. My favorite aspect of working here is getting to hire the next generation of Partners into our firm.
Q: Sounds like the best way to pay it forward but before we go forward, lets look back a little more. What is your best memory of the 80s?
A: My first trip with family overseas opened up my eyes to a whole different world and culture. I was 5 years old and went to London and Europe. We spent over a month there.
Q: That's quite a trip! On the topic of fun times, what's the biggest difference of 1986 vs now?
A: We live in a globally connected world where life can be easily broadcasted to the world in real-time, but that comes with even greater responsibility.
Q: Sounds like a Superman quote, so I have to ask, if you could have any superpower what would it be? What would your superhero name be?
A: The ability to heal because a lot of people suffer in this world. My superhero name would be Ziggy.
Q: What motto do you live by and how did you hear it?
A: It's so important to listen and be measured. Being in this business, my favorite Thomas Edison line is: "Opportunity is missed by most people because it is dressed in overalls and looks like work."
Q: If you had the opportunity to interview anyone (dead or alive), who would it be? Why?
A: Elon Musk - he's a modern day genius focused on issues that matter, making history in our lifetime that will change generations to come.
Q: What 3 goals do you have set for yourself to complete in the future?
A: First and foremost, I want to be a present father in the lives of my two girls; second, to constantly give back; and third, to fit into my wedding suit again.
Q: What is something people would be surprised to learn about you?
A: I prefer drawing in a sketchpad over reading a book. I love to paint and went to art school for a decade. I'm surprisingly handy and love to work with my hands, it's a great stress reliever.
Rockefeller Tree Trivia: Did You Know?
The first time New Yorkers put up a Christmas tree in Rockefeller Center in 1931, it was like something out of Dickens. The Depression-era workmen building the center were so grateful to have jobs that they decorated a spruce tree with strings of cranberries, paper garlands, and a few tin cans. On December 24, they lined up beneath the tree and received a small Christmas miracle: paychecks. The first official Rockefeller Center Christmas tree went up in 1933.

After Christmas, the tree keeps on giving. The evergreen has been even greener since 1971 when it was turned into 30 three-bushel bags of mulch for nature trails in upper Manhattan. It has since been used to build homes for Habitat for Humanity and to rebuild houses in New Orleans after Hurricane Katrina. The stump, however, gets its own afterlife; it's donated to the US Equestrian Team to be used as obstacle jumps. Since 2007, the spruce has been lit with 30,000 energy-efficient LEDs, powered by solar panels. and last year, about 15 percent of the tree went into making paper for a book called The Carpenter's Gift. It's about people helping one another, and the proceeds go to charity, of course.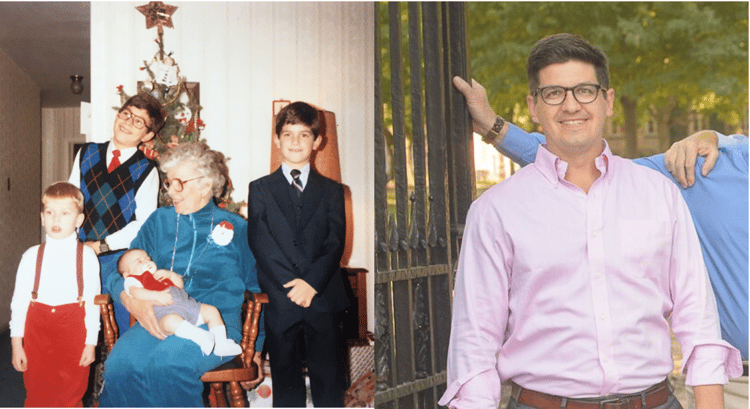 In the picture on the left, can you guess which young stud is little Ziggy? He's standing tall with family and a special Christmas tree in the winter of 1986. To the right, Ryan is all smiles as a proud papa of two, husband to a beautiful wife, and lead of Marketing Technology, Edison's fastest growing industry in the summer of 2016.
We hope you'll join us on this #EdisonTurns30 campaign. Any and all contributions from our network are most welcome.