I enjoyed terrific content, best practices and networking at Edison's CEO Summit at the Borgata Water Club last month. Energy was high among the 90 attendees of active CEOs and "rockstars" (Edison's nickname for executives who guided terrific exits at an Edison-backed company).
On the second day, we broke into small groups to conduct a series of rapid fire "sausage making" roundtables, designed for CEOs to share best practices on tactical and actionable topics. I had the opportunity to facilitate three discussions on a critical topic for all CEOs: How do you build an all-star board that works for you?
The leaders for each session were: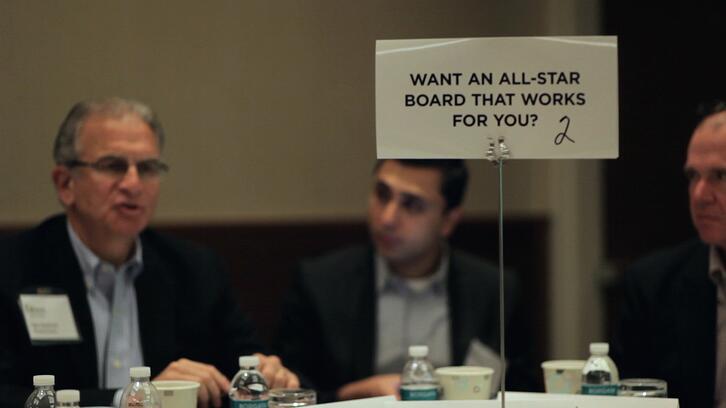 Here are my top three takeaways from the three sessions:
Board composition and chemistry. Glenn noted that some board relationships last longer than many marriages, urging folks to carefully vet new board candidates. "Make the hard decisions up front rather than planning to 'working it out' later." Gordon Rapkin, CEO of Archive Systems, encouraged adding people with domain expertise that have experience at your company's stage. Most CEOs agreed that 'celebrity' board members rarely offer much value in the growth stage. Building chemistry is really important, noted Bill McHale, Edison rockstar and former CEO of DSET, who strongly encouraged having dinner the night prior to a board meeting to develop relationships and rapport.
The magic happens outside of the boardroom. Kevin Hill, chairman at CheckpointHR, noted that CEOs need to "manage their board" – not just in the board meetings. "Eighty percent of what you get out of a board happens outside of board meetings," commented Steve Wray, CEO of Cadient. John Bailye, founder and CEO of Dendrite added that CEOs need to get directors to focus beyond the "four meetings per year syndrome"; the missing link is to get board members to jump in and solve problems directly with the CEO. Lloyd Wirshba also encouraged CEOs to use board members as a resource to interview potential executive hires.
Creating a conversation vs. reporting. Most agreed that the best board meetings are those where you create a "conversation" rather than simply reviewing slides. Board members should come prepared to discuss and engage. Bob Badavas believes it is the CEO's role to guide the board to answer key strategic questions. Fulfilling this objective requires groundwork. Badavas encourages CEOs to interact with directors ahead of a meeting to avoid any surprises. He also recommends open and transparent communication among company executives and directors. He does, however, request that board members not assign tasks without his approval.

Demandware CEO Tom Ebling and Sourcefire CEO John Becker echoed and added to these board do's and don'ts in their fireside chat with Chris Sugden, What it Takes to Lead & Create Billions in Market Value.
Edison plays an active role in improving board effectiveness in partnership with our Edison Director Network, a community of seasoned executives that serve on our portfolio company boards. In September, Edison will host our 5th Edison Director College, an executive education program for all sitting directors from our portfolio companies, to share best practices on more topics like this one, such as team building, governance, strategic planning, and optimizing exits. More on the Director College soon. In the meantime, I welcome your thoughts on what it takes to create an effective board.