While we've been actively investing in FinTech since 2000 (across trading, wealth management, lending, payments, compliance, and more), we've always been thematic in our approach. With Fund VIII, one of our key FinTech themes is transparency in financial markets and the democratization of financial services. Axial fits squarely in this theme, as their platform enables entrepreneurs, investors, bankers and advisors to transact and communicate in a more efficient and transparent manner.
Axial has built the leading marketplace to connect middle-market entrepreneurs, investors, bankers, acquirers, and service providers. By centralizing and connecting these individuals, they've brought efficiency and liquidity to the middle-market, allowing entrepreneurs and advisors to broadcast their deals to hundreds and thousands of investors and acquirers across the country. Tens of thousands of entrepreneurs, investors, advisors, and service providers have joined the platform, which has driven billions of dollars of transaction value that may have otherwise gone unrealized, been underpriced, or simply taken an unreasonably long time to realize.

Following are four reasons why we made the investment in Axial:
1. The Market
The fragmented nature of middle-market ecosystem isn't just burdensome for entrepreneurs, but all stakeholders in the deal process (private equity investors, investment bankers, acquirers, service providers). More than 300K different stakeholders feel this pain (18K+ investors, 13K+ advisors, and 275K+ middle-market companies); the middle-market is enormous. Nearly 30K deals were done in this universe in 2015, totaling nearly $300B in transaction value. This activity is plagued by inefficiencies though; price inefficiencies, time inefficiencies, and inefficiencies around optionality for all relevant parties.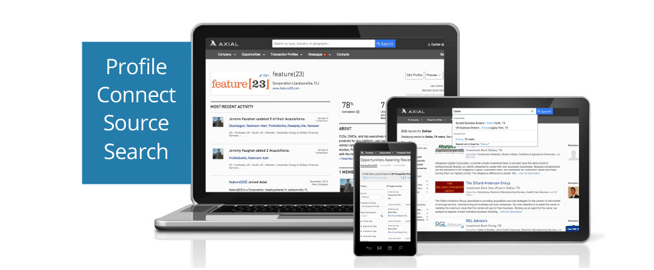 2. The Platform
With tens of thousands of users, Axial has built a significant network effect around its platform. But beyond the network, Axial has engrained itself in the middle-market deal workflow through a robust layer of resources (messaging, NDA management, content, etc.). This combination of network and product strength has created the leading business development platform for the middle-market, paving the way for thousands of deals, hundreds of thousands of connections, and billions worth of closed transaction value.
3. The Team
Peter Lehrman is not only a proven operator, but he understands this market issue intimately. Coming from middle-market private equity, where Peter's entire job was to source great middle-market investments, he saw the inefficiencies of the middle-market ecosystem first hand. Coupling his knowhow his market understanding and operating prowess with the quality of individuals he's surrounded himself with on his management team gives us great comfort in their ability to execute.
4. It's Personal
Axial is a company after my own heart. As the son of a middle-market entrepreneur in a flyover state, I witnessed the fragmented middle-market ecosystem up close and personal. I could count on one hand the number of private equity investors and investment bankers that exist in my home state of Oklahoma. However, while these non-target areas may lack investors, acquirers, or bankers, what they don't lack is great middle-market companies. Its middle-market entrepreneurs, like my father and countless friends and family from back home, that fuel our country's entrepreneurial spirit and create countless jobs and drive economic growth. To me, having the ability to partner with Peter and his team in bringing efficiency to this market is much more than a strong investment thesis.
Peter and his team have built out an exceptional platform and the middle-market community has flocked to it. At this point in Axial's development, the technology and market risk has been fleshed out. Exceptional sales and marketing execution is what will allow them to build a substantial business and delivering this is what the Edison Edge is all about. We've invested countless time, money and energy in building out the best sales and marketing acceleration platform in growth equity; this is the type of partnership our model is built for.