Edison recently hosted its 10th annual Fintech Roundtable, a one of our Edison Edge executive education programs. Despite meteorologists' flubbed forecast of a winter apocalypse, we had a full house. Attendees included 40 Edison portfolio executives, Edison Director Network members and corporate development executives. Topics included buyer insights and exit war stories, particularly from Joe Mrak, who recently exited FolioDynamix (stay tuned for Joe's "lessons learned" in my next blog post). Our friends at Evercore Partners, who recently advised FolioDynamix on its successful sale to Actua, shared perspectives on the capital markets/M&A environment. More provocative, however, was Jane Gladstone's advice on how to effectively position a fintech company for exit.
Should fintech companies be positioned as SaaS or Fintech?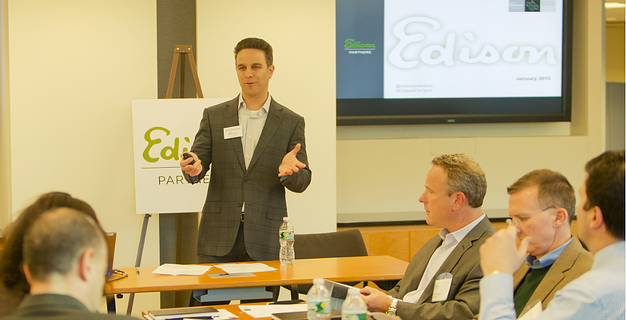 The answer was a page from an Economics textbook. IT DEPENDS.
It depends on whether a company is planning for IPO vs. strategic sale…
It depends on how your buyer trades…
It depends on how your growth rates and margin structures compare with relative benchmarks for each segment…
It depends on your SaaS metrics (CAC, LTV, backlog) relative to peer groups.
The Punchline here is: each company needs to tailor its message and positioning based on its comparison to public benchmarks and, perhaps more important, the buyer universe.
Jane also shared some actionable insights on things companies can do today to optimize enterprise value down the road. Following are 5 essentials:
Have the Data to Tell Your Story.
The more data you have, the better. Deal champions are looking for validation to justify paying more for your business. Arm them with tons of data (e.g., win/loss data, breakdown of revenue and by type, history of cross sell, client retention metrics, statistics that demonstrate the quality of the technology, etc.)
Cultivate Great Relationships with Buyers.
Start getting to know the industry players early on. The more a potential buyer has seen the product and management team in action, the more comfortable they will be in making an investment or purchase down the road.
Customer Happiness is Key.
Buyers want to know your customers are happy and here to stay. Demonstrating evidence of customer upsell, not just retention, is vital. Strong customer calls give buyer significantly more comfort and can make the difference between a good and great outcome.
Get your house in order.
Clean your tech house (licenses, manuals, code, single platform, outages), resolve any IP/patent issues, resolve customer/vendor contracts for change of control provisions, resolve "key person" issues (non-competes, retention, deal incentives)
Dream Big and in Detail.
Your financial plan is critical. Dream big (i.e., presume larger financial warchest) and dream in detail. Use historical experience as a context to guide future forecasting.
If you develop and maintain a very customized process, have a strategy for each different buyer type, can present good data to support your story, and ensure that everyone is on the same timeline, you will be "hot."
---
About Jane Gladstone: Senior Managing Director, Evercore Partners

Jane Gladstone is the Senior Managing Director leading Evercore's financial services corporate advisory business with over twenty three years of investment banking experience. Ms. Gladstone has been named one of the Top 50 rainmakers on Wall Street by Dealmaker magazine and been a delegate to the World Economic Forum. Ms. Gladstone is a member of the Committee of 200, an invitation-only membership organization of the world's most successful women business leaders and The Economic Club of New York.
Since joining Evercore, Ms. Gladstone has advised the Special Committee of the Board of Alibaba Group on the restructuring of its interests in Alipay and the SME Loan Businesses; FolioDynamix on its sale to Actua; IntercontinentalExchange on its sales of NYFIX and Metabit to ULLINK and Wombat Financial Software to SR Labs; BV Investment Partners on its sale of Butterfield Fulcrum Group to Mitsubishi UFJ; Direct Edge on its merger with BATS; GlobeOp on its $1 billion sale to SS&C; optionsXpress on its $1 billion merger with Schwab; Rockefeller Financial Services on its sale of a 37% stake to Société Générale; Creditex on its $625 million sale to IntercontinentalExchange; Silver Lake Partners on its sale of a minority ownership stake to CalPERS; Gerson Lehrman Group on its $300 million capital raise from Silver Lake Partners; ETRADE FINANCIAL in its $2.55 billion capital raise, as well as its acquisitions of Harrisdirect from Bank of Montreal ($700 million) and BrownCo from JP Morgan ($1.6 billion); First Data on its $29 billion sale to KKR; ISE on its $2.8 billion sale to Eurex; Silver Lake Partners on its sale of Instinet to Nomura Holdings; IntercontinentalExchange on its $1.1 billion acquisition of the New York Board of Trade; and The Bank of New York in its $629 million formation of BNY ConvergEx, through combination of BNY Securities Group's trade execution business with Eze Castle Software and an investment by GTCR Golder Rauner.
Prior to joining Evercore in July 2005, Ms. Gladstone was a Managing Director at Morgan Stanley, where she worked for over twelve years. Ms. Gladstone graduated Phi Beta Kappa from the University of Virginia.