Edison Partners Invests $8M in All Traffic Solutions
An evolution of the transportation technology model is underway. As a driver, you're likely benefiting from this transformation every time you get behind the wheel. Thanks to this type of technology, we're able to move quickly through tollbooths with electronic toll collection and can access a vast amount of travel information—from real-time traffic alerts and speed cautions, to navigation assistance and alternative route recommendations—right from roadside signs and our smartphones. We can even be notified about available parking with the deployment of parking sensors. This technology will continue to advance and, as it does, more opportunities arise and solutions can be instituted to make the management of information more efficient and cohesive.
One of the companies solidifying itself as an innovator is this sector is All Traffic Solutions. All Traffic Solutions designs, manufactures and sells traffic safety products and services used in the public sector, by organizations such as law enforcement, corporations, universities and hospitals. Its fixed and mobile "smart" signs leverage the company's TraffiCloud software to allow users to remotely manage their equipment, while automating data usage and analysis of roadway traffic information.
Why did we invest?
Underserved SaaS niche in transportation, traffic and parking management.
All Traffic Solutions was launched in 2011 out of State College, PA-based Intuitive Control System, LLC. The company holds a patent for a cloud-based management system that gathers data from its roadside signs and transmits it to a centralized server. While its first generation TraffiCloud software, which leverages this patented technology, allowed for the remote programming of roadside signage, the latest version, released in 2015, has an improved user interface and the unique ability to interoperate with data from drive systems, parking sensors, radar sensors and auto license plate readers.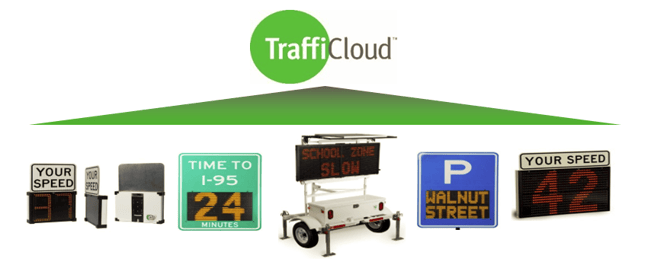 Two veterans serve as CEO and EDN with prior successes in the target market
Looking at the domestic transportation technology market, among the biggest innovators over the past 15 years has been TransCore, owned by Roper Technologies. Joe Grabias, who is part of our Edison Director Network (EDN) and serves on the Board of All Traffic Solutions, joined TransCore in 2002 as CFO. Today the electronic tolling system, operating under a variety of names such as EZPass and SunPass, is a global business that has more than doubled in revenue. To have Joe's experience onboard at the dawn of the TraffiCloud era of data interoperability with roadside signs and smartphones is a huge advantage.
Among the main disruptors in the public safety space during this decade are TASER and its first ever acquisition in May 2015 of MediaSolv, lead by Jim Weaver, now the CEO of All Traffic Solutions. As soon as Joe confirmed that he saw All Traffic Solutions as a good fit for Edison, the next step taken was to try to lure Jim Weaver to run the business. MediaSolv is the leader in police/judicial evidence management systems that record video in interrogation rooms, from police cars and from police wearable cameras, the latter two niches just emerging this decade.
Jim built a rapport with the All Traffic Solutions' founders and the entire Edison team during the diligence phase, giving both sides confidence to wait for a closing to have him join as CEO. Jim is moving quickly to build out a senior management team including a CFO, VP of Sales, VP of Marketing and VP of Partnerships. Ted Graef, All Traffic Solutions' co-founder, is handling Operations.
Data integration capabilities provides for significant channel opportunity.
All Traffic Solutions provides its customers with never before possible ROI, operational efficiencies and revenue enhancement opportunities. Examples include alternate route suggestions to ease traffic congestion, monitoring radar signs to deploy enforcement at peak speed abuse periods and pulling data from parking sensors to direct drivers to available parking.

All Traffic Solutions is clearly ahead of the competition, with installations at state and local transportation departments, hundreds of police departments, major hospital centers, universities and military installations. The company has made the case that "dumb" roadside signs need to be updated with cellular modems to be able to utilize TraffiCloud to better optimize all traffic safety equipment.